Father Kevin Michael Laughery, Troy St. Jerome and St. Jacob St. James Parishes, Diocese of Springfield in Illinois, USA, Roman Catholic Church |||| On Prayer || Liturgical Calendars || COMMONWEAL Magazine Discussion Groups || Sunday Homily Podcasts and Blog || Daily Lectionary Podcasts (USCCB) || Daily Lectionary Podcasts (Verbum Domini) || Greater Springfield Interfaith Association || Metro East Interfaith Partnership || Marriage Dissolution/Nullity in the Catholic Church: FAQs || SITE LIST || What Really Matters || Boring Stuff
---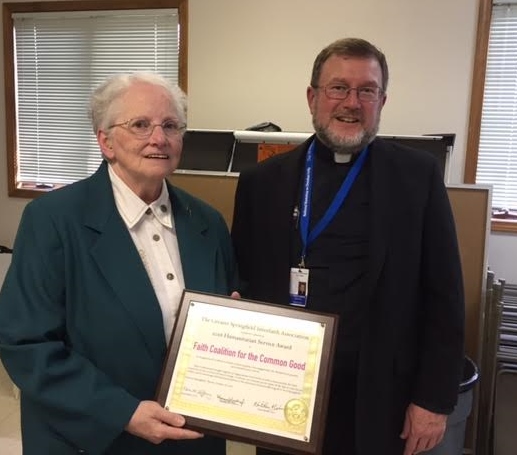 Oh, earth, you're too wonderful for anybody to realize you.
Do any human beings ever realize life while they live it? -- every, every minute?
No. ... The saints and poets, maybe -- they do some.
Thornton Wilder, Our Town
SITE LIST || Father Kevin Michael Laughery, Troy St. Jerome and St. Jacob St. James Parishes, Diocese of Springfield in Illinois, USA, Roman Catholic Church
This "index" or "home" page last updated
Wednesday, June 3, 2020


In Cyberville since 1996; podcasting since 2005
Photo: Fr. Kevin with Sister Linda Hayes, O.P., recipient, on behalf of the Faith Coalition for the Common Good, of the 2016 Humanitarian Service Award of the Greater Springfield Interfaith Association, at annual Welcoming Banquet, Tuesday, October 18, 2016, Islamic Society of Greater Springfield. Photo courtesy of Martin Woulfe.